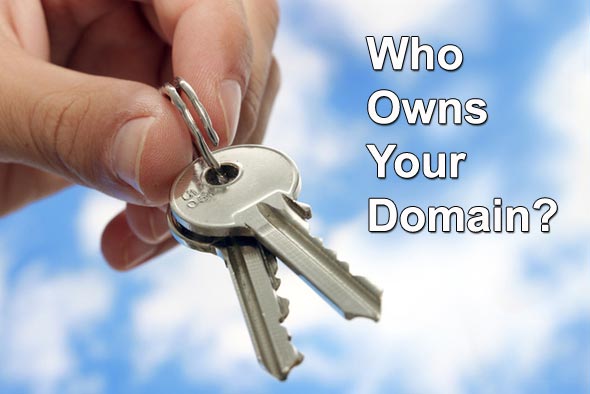 Are you holding the keys to your domain name? If you're website is setup under your domain name, you must own it right? Well, not necessarily…
Imagine the following scenario: You hired a web designer to get your business on the web. Two years go by, and while your business grew, your website stayed the same. Time to upgrade! You go out and hire another web designer and you soon find out the bad news: You don't own your domain name! It was registered two years ago by your first web designer, under his own name. Now you're new web designer can't make the changes needed to launch the new site. What can you do?
I have seen this happen quite frequently to small business owners who hire an individual web designer, rather than a large web design firm. These same business owners are usually not the most internet savvy individuals, and are not concerned with details of how the websites and domains work, they just want it done! As a result they naturally turn everything over to the web designer including registration of  the domain name. And since its quicker and easier for web designers to purchase the domain under their account, rather than creating a new account for the actual business owner, they also end up being the legal owner of the domain name.
So, the big question is: How do you look up the domain's ownership information?
It's actually really simple:
Visit a WHOIS Database website.
Type in your domain name.
Click GO or Submit.
This is what you'll see on the next page: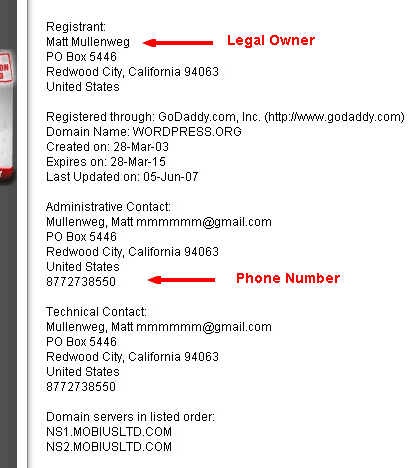 If you don't see your name or your company's name under the "Registrant" field you need to take action to get the domain transferred into your ownership. Most of the time it shoudn't take more than a quick phone call to your initial web designer  and telling them you're updating the site and need the domain transfered into your own account. If you don't already have an account, signup with a registrar like GoDaddy or NameCheap. Make sure you do this before you initiate the process. Its really simple, and if you need any help you can call GoDaddy anytime 24/7.
If you don't have their contact information or its no longer valid, look at the WHOIS information, you should see a phone number and email listed.
Hopefully that took care of it. The actual transfer process is fairly simple and mainly consists of you confirming and then accepting the transfer. Sometimes you will have to wait up to 5 days for the transfer to finalize.
Congratulations, you're now finally the legal owner of your domain name!
You got off easy this time, but don't make the same mistake twice. Next time it could cost you a trip to an attorney's office if your domain is being held hostage by the initial web designer. It can get even more complicated if the individual that registered your name is nowhere to be found, or is now dead; or in the case of a company, if it closed its doors and went out of business. You don't want to find yourself in those situations.
The big take away from this post is you should ALWAYS register your domain names by yourself.