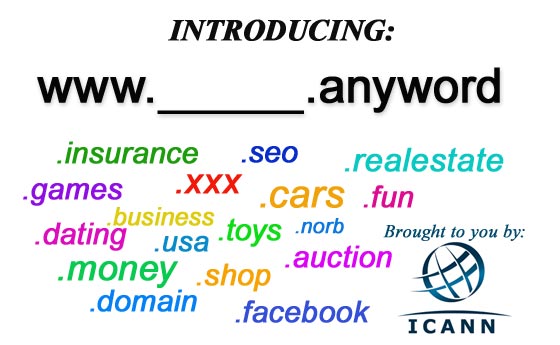 You can now own any domain suffix available! I actually caught this on CNN earlier this morning. On a side note, I have to say I hate how they break some of the technical/internet news, because frankly, the ".com era" is not "over." So, anyway, what's the big deal?
Well, you can own any suffix like .yourname, .city, or .anyword that's not currently in use! However, there's a catch, you need cash, serious cash. The application fee is $185,000 with annual maintenance fee of $25,000. That's quite a chunk of money!
Domain Suffix Bidding Wars
So, who's most likely to buy? Brand name organizations will most likely be the first to make the purchase.  Some may go to the highest bidder in a private auction. Often times, these auctions end up resulting into a bidding war between two parties – that's when the prices goes up quickly. This is no different than the recent domain name auction I participated in.  CNN's example was a .apple suffix resulting in a bidding war between the apple agricultural industry and the Apple company (think iPhone). However, I wouldn't be completely sure Apple corporation will choose to pursue the suffix, after all they've passed on domains like ipad.com even though they own the trademark. Not to mention would the apple industry really need the .apple suffix?
Of course you can get creative, consider these valuable and usable examples: auto.insurance or newyork.realestate, not to mention when you own the suffix you own all the possibilities: car.insurance, home.insurance, health.insurance and so on. Clearly the Real Estate, Insurance, Mortgage, SEO, can be among some of the most profitable keywords and also be among the suffixes that sell far past the $185,000 because of their SEO value.
It's simply too early right now to make major assumptions about SEO value of these suffixes. Currently only select TLD suffixes get the Google boost. When you search the web, how often do you come across a domain ending in something other than .com, .net, .org, or .into? I guess we'll see what happens when some of these new suffixes are formed, until then my #1 rule for choosing domain names is still: buy the .com first!
Since I first heard this news on CNN, they actually happen to be a perfect example of an organization to that will purchase their suffix .CNN. How do I know this, well they already own thousands of domain names and .CNN is something they can actually use. In fact, besides the extensions purely for SEO, I can only see three letter suffixes being the most valuable, which immediately lead me to the next suffix – the .XXX.
The .XXX Domain Name Suffix
When my focus shifted to the .XXX suffix I wasn't thinking of porn, I was actually thinking of how profitable that suffix could be. Sex.com was foreclosed on and sold again for $11.5 million in 2010. So when I see the .XXX suffix I see money to be made. Sure, the application and first year's fee's will set you back $200,000, but you could easily auction off a single premium one word .XXX domain names and break even! I'm not going to list examples of the domains, but I'm sure you can come up with a couple on your own.
Furthermore, the .XXX suffix is a win-win for the internet. It can make the internet safer for the kids since search engines can easily block out ALL content coming from that suffix. Have you ever arrived at a porn site by accident? I remember having a project due in middle school about US presidents and needless to say, back then whitehouse.com was everything but..